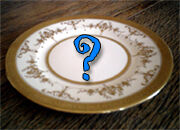 Description
Ingredients
1 pound crayfish tails (use rock lobster if in the USA)
1 teaspoon salt
4 ounces butter
1 cup onions, thinly sliced
2 tomatoes, chopped
1 clove garlic, minced
1 teaspoon salad herbs
1/2 teaspoon nutmeg
1 teaspoon salt
1/2 teaspoon pepper
1 piece lemon rind
1 cup dry white wine
1/2 cup light cream
Directions
Heat 1-1/2 quarts water in a large saucepan to boiling. Add the lobster tails and salt, and simmer until tender. Remove lobster tail meat from shells, coarsely chop and set aside. Reserve stock.
In another large saucepan, heat the butter and sauté the onions for 5 minutes. Add the tomatoes, garlic, herbs, nutmeg, salt, pepper, and lemon peel. Cook over low heat for 10 minutes. Add the wine and 4 cups lobster water. Boil soup and cook for 10 more minutes. Force soup through a food mill, then return to the pot.
Community content is available under
CC-BY-SA
unless otherwise noted.