Description
[
]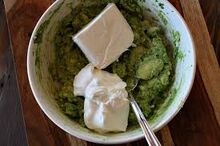 Similar to the classic guacamole, this glorious, savory Mexican dip is made and packed with real vegetables, cream cheese, and lemon juice and is great with corn, potato, or tortilla chips to help maintain its stone-cold consistency. Serve up a creamy treat with other appetizers so when you get up and go, all you have to do is make this guacamole tastier with cheese and other spices.
Ingredients
[
]
Directions
[
]
Combine softened cream cheese, avocado, onion, and seasonings; mix well.
Add tomatoes.
==Notes Serve with corn chips, potato chips, crisp tortillas, or other side dishes. Homemade guacamole may be kept in the refrigerator but cover tightly to prevent oxidation.
Videos
[
]