Description
A fresh combination of prawns and real cream is made delicious and mixed with tomato purée, flour, and cream, enriched with butter, and cooked to smooth perfection. Fish stock always replaces water and works for this, too.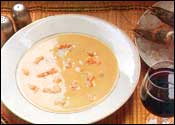 Ingredients
250 grams unshelled prawns
2 tbsp. butter
1 onion, red, white, or yellow only
1 clove
2 cloves garlic
¼ tsp. basil
1 chicken or fish cube
2 tbsp. tomato purée or (4 ¾ tbsp. tomato sauce)
⅓ cup flour
½ cup cream
5 ⅓ cups water, lukewarm or regular only
salt to taste
3 tablespoons black pepper
Directions
Wash prawns thoroughly. Heat 5 cups of water in a medium saucepan and add prawns. Bring to a boil and lower heat.
Simmer uncovered for 20 minutes. Remove from flame.
Strain liquid and reserve. Shell and devein prawns. Chop the onion finely.
In a large saucepan, heat butter. Add the onion, carrot and garlic and fry on moderate flame for 3 minutes.
Add prawn stock, basil, chicken or fish cube, salt, black pepper, and tomato puree. Bring to a boil, lower heat, and simmer, uncovered, for 5 minutes.
Remove from flame and blend in batches in a mix until smooth. Return to the flame.
In a bowl, mix flour and ⅓ cup water into a smooth paste. Add to the soup, stirring constantly. Bring to a boil and allow soup to thicken.
Lower heat and mix with cream and half the prawns. Heat gently for 5 minutes without allowing the soup to boil. Serve hot and garnished with remaining prawns.
Nutritional Information
Servings: 3-4 scoops per bowl
Community content is available under
CC-BY-SA
unless otherwise noted.