Description
Edit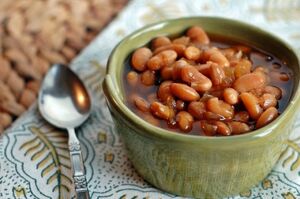 This recipe's 12 hour cook time allows you the flexibility to go to work, come home, fire up the grill, and entertain guests-the beans will be done just in time for dinner to be served.
Contributed by Catsrecipes Y-Group
Source: Southern Living 2007 Slow Cooked Sides
Prep: 20 minutes | Cook: 12 hr | Stand: 1 hr
Makes 9 servings
Ingredients
Edit
1 (20-oz) package dried Cajun 15-bean soup mix (like Hurst's HamBeen's Cajun 15-bean soup mix)
1 (12-oz) package diced cooked ham (like Hormel Diced Cooked Ham)
2 cups chicken broth
1 cup chopped onion
1 (18-oz) bottle of hickory smoke BBQ sauce (like KC Masterpiece Hickory BBQ sauce)
¼ cup firmly packed light brown sugar
¼ cup molasses
½ tsp salt
¼ tsp red pepper (cayenne)
Directions
Edit
Reserve spice packet in soup mix for other uses.
Place beans in a large glass bowl; add water 2 inches above beans.
Microwave on high 15 minutes; cover and let stand 1 hour. Drain.
Combine beans, ham, broth, and onion in a 4-qt slow cooker.
Combine BBQ sauce and remaining 4 ingredients, stir into bean mixture.
Cover and cook on low 12 hours or until beans are tender and sauce is slightly thickened.
Community content is available under
CC-BY-SA
unless otherwise noted.