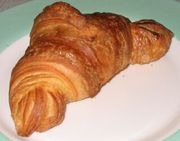 Name Variations
Edit
About Croissant
Edit
Wikipedia Article About Croissant on Wikipedia
A croissant (IPA: [kʁwa'sɑ̃] listen (help·info), anglicised variously as IPA: /krə'sant/, /kwa'son/, etc.) is a butter-laden flaky French pastry, named for its distinctive crescent shape. Croissants are made of a leavened variant of puff pastry by layering yeast dough with butter and rolling and folding a few times in succession, then rolling.
Making croissants by hand requires skill and patience, but the development of factory-made, frozen, pre-formed but unbaked dough has made them into a fast food which can be freshly baked by unskilled labor. Indeed, the croissanterie was explicitly a French response to American fast food. This innovation, along with the croissant's versatility and distinctive shape, has made it the best-known type of French pastry in much of the world. In many parts of the United States, for example, the croissant (introduced at the fast food chains Arby's in the United States and Tim Hortons in Canada in 1983) has come to rival  long-time favorite doughnuts.
Community content is available under
CC-BY-SA
unless otherwise noted.