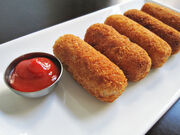 A croquette is a small bread crumbed fried food roll containing, usually as main ingredients, mashed potatoes and/or ground meat (veal, beef, chicken, or turkey), shellfish, fish,cheese, vegetables and mixed with bechamel or brown sauce, and soaked white bread, egg, onion, spices and herbs, winw, milk, beer or any of the combination thereof, sometimes with a filling, e.g. sautéed onions or mushrooms, boiled eggs (Scotch eggs). The croquette is usually shaped into a cylinder, disk or oval shape and then deep fried.
Ingredients
Edit
100 g butter
1/2 c finely chopped onion
2 cloves garlic
3/4 c flour
2 1/2 c milk
1/2 t paprika
1/4 t fresh grated nutmeg
1 t dry parsley
olive oil
6 oz fish (300g)
salt and pepper to taste
Bread crumbs
Flour to coat
1 beaten egg
Directions
Edit
If you're using salt cod, simmer water for 5 minutes. Drain. Cool. Flake. The smoked fish, just chop or flake. Set aside.
Mince the onion and garlic. Sautee until soft in some oil. Add the butter in chunks. When melted. Sprinkle in the flour while mixing. It will turn into a paste fast. It's okay. Cook for a few minutes. Brown if you have time.
Pour the milk in 1/2 cup at a time. Whisk until smooth. Turn up the heat a bit if your milk is cold. Add the spices. Whisk until it thickens. You're looking for brownie batter consistency.... i.e. thicker than pancake batter but thinner than bread dough.
Add the fish. Mix. Set aside.
With two spoons, form egg shapes or rugby ball shapes. drop in flour to LIGHTLY coat. Drop in beaten egg and dredge in bread crumbs. Set aside. When you're down cool the lot in the fridge until you're ready to fry.
Fry in some shallow oil on medium high. Don't crowd the pan if you've left them in the fridge. The cold will lower the temperature of the oil.
Community content is available under
CC-BY-SA
unless otherwise noted.