Description
[
]
This is a refreshing, Asian inspired cucumber salad. I got this from the Williams Sonoma "Cooking from the Farmers Market" cookbook. The Sugar listed in the ingredients list was not in the original recipe, but I added it to suit our tastes. Cook time is maximum marinating time.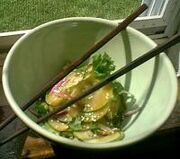 Ingredients
[
]
Directions
[
]
In a bowl, combine the rice vinegar, peanut oil, soy sauce, sesame oil and crushed red pepper and sugar (if using) and wisk well.
Cover and refrigerate for an hour or up to 24 hours.
To serve, sprinkle with toasted sesame seeds and chopped cilantro.
Can be served chilled or at room temperature.