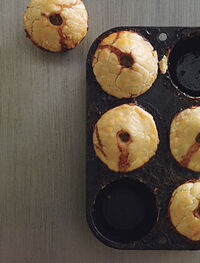 yield: Makes 12 servings
active time: 45 minutes
total time: 1 1/4 hours
Serve these handheld pies alone or with applesauce, mustard, or roasted apples.
Source: Epicurious Game of Thrones Menu
Ingredients
Edit
3/4 pound ground pork
1 medium onion, peeled and grated
1 teaspoon kosher salt
1/2 teaspoon freshly ground black pepper
1 tablespoon chopped fresh sage
1/2 cup bread crumbs
2 (9-inch) discs prerolled, refrigerated pie dough (such as Pillsbury)
2 eggs, beaten
Preparation
Edit
Preheat oven to 375°F.
Grease two 6-cup muffin tins with butter.
In a large bowl, combine all the ingredients but the dough and 1 tablespoon of the eggs; refrigerate.
Unroll the dough and cut out twelve 4-inch circles with a biscuit cutter or the rim of a drinking glass.
Reroll the scraps, then cut out 12 more 2-inch circles.
Line the bottoms and sides of the tins with the 4-inch rounds.
Divide the filling evenly among the cups. Press the 2-inch rounds on top, pinching the edges together to seal.
Poke a hole in the center of each pie.
Brush with the reserved egg and bake until the tops are browned and puffed slightly, 30 to 35 minutes.
Let cool for 15 minutes before removing the pies. Serve warm.

Read More http://www.epicurious.com/articlesguides/entertaining/partiesevents/tv-dinners-game-of-thrones/recipes/food/views/Cupcake-Tin-Pork-Pies-240225#ixzz2PcH3RKKS
Community content is available under
CC-BY-SA
unless otherwise noted.