PEPPERONI PIZZA
Edit
INGREDIENTS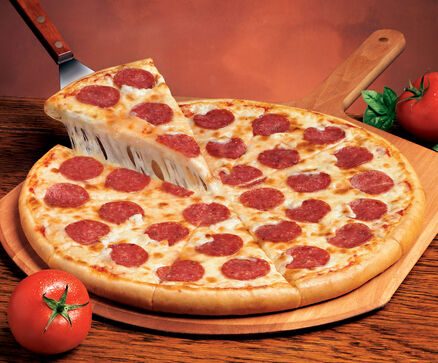 For the dough:
-6 cloves of garlic
-1/2 tablespoons yeast
-1 teaspoon salt
-410 gr of flour
-1 1/2 cups water
For the filling:
-1 cup shredded mozzarella cheese
-1 can of tomato sauce for pizza
-70 gm of pepperoni slices
DIRECTIONS
1.- In a bowl, dissolve yeast with 1/2 cup water. Add 125 g of flour and mix well.
2.- Cover with plastic wrap and let stand until fluffy, about 1 hour.
3.- Add the remaining water, flour and salt and mix well.
4.- Once the dough is formed, knead on a floured surface until it becomes smooth and pliable dough, about 15 minutes.
5.- Back to a floured bowl and cover with plastic wrap.
6.- Let rice 2-3 hours in a dry, warm the place, until double in size.
7.- Deflate the dough and stretch.
8.- Drive the dough in half and let stand for another 10-15 minutes (while you prepare the other ingredients).
9.- Meanwhile, preheat hot oven (220º C).
10.- Roll dough either by hand or with the help of rolling pin.
11.- Place on a lightly oiled pizza pan.
12.- Smear it with pizza sauce and bake for 8 minutes.
13.- Remove and cover with mozzarella and pepperoni slices.
14.- Return to oven until it has browned and the cheese is bubbling.
Community content is available under
CC-BY-SA
unless otherwise noted.