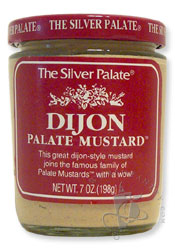 About Dijon mustard
[
]
Hailing originally from Dijon, France, this pale, grayish-yellow mustard is known for its clean, sharp flavor, which can range from mild to hot. Dijon mustard is made from brown or black mustard seeds, white wine, unfermented grape juice, (must) and various seasonings.
Dijon mustard is not covered by a Protected Designation of Origin (PDO) or a Protected Geographical Indication (PGI) under the auspices of the European Union; thus, while there are major mustard plants in Dijon and suburbs, most Dijon mustard is manufactured outside of Dijon.
Dijon mustard originated in 1856, when Jean Naigeon of Dijon substituted verjuice, the acidic "green" juice of not-quite-ripe grapes, for vinegar in the traditional mustard recipe.
Mustards from Dijon today generally contain both white wine and burgundy wine. Mustards marketed as Dijon style must contain one or both of these wines or may substitute vinegar or another acid in order to conform to local laws.