Description
Edit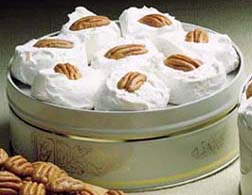 A fluffy yet creamy candy made with granulated sugar, corn syrup and stiffly beaten egg whites. nuts, chocolate, coconut or various other flavorings are often added to the basic mixture. When brown sugar is substituted for granulated sugar, the candy is called seafoam.
Ingredients
Edit
Directions
Edit
Avoid making divinity on a humid day; candy will not harden.
In a 2 quart saucepan over medium high heat, heat sugar, syrup and water to boiling, stirring until sugar is dissolved.
Set candy thermometer in place and continue cooking, without stirring until the temperature reaches 248°F.
Meanwhile, in a medium bowl with mixer at high speed, beat egg whites until stiff peaks form.
Beating at medium speed, slowly pour half of the syrup into whites.
Continue beating while heating other half of syrup to 272°F.
While turning bowl and continuing beating, slowly pour remaining hot syrup into mixture (mixture will be stiff).
Don't scrape saucepan; mixture on side may be sugary.
Add vanilla; beat until mixture holds stiff, glossy peaks.
Working quickly, drop by heaping teaspoonfuls onto waxed paper.
Completely cool before storing.
Community content is available under
CC-BY-SA
unless otherwise noted.