This article is a stub!

This article doesn't contain enough information. If you know anything about Djiboutian Cuisine, please add to this article!
Djibouti - Cooking and Food
Edit
Overview of Djiboutian Cuisine History
Edit
The Djibouti cuisine history is not very well known. Still the complexity and the unique ways of mixing all kind of exotic African ingredients stunned everyone who had the chance of trying this country cuisine. The late 20th printed cookbooks show that the Arab people, the British and Indians, influenced this country's cuisine over the years. The Arabs brought along in the Djibouti cuisine ingredients like saffron, cinnamons, pomegranate juice, saffron and several other spices. Somewhere around the 16th century the British and Indian people arrived on this lands and brought with them their cuisine. Since then Djibuti cuisine start using all kind of spiced vegetable like Lentil soups, curries the Indian chapattis. Techniques like marinating and roasting the food was introduced in this country by the Portuguese people. Also the Portuguese brought from their Asian colonies exotic fruits like pineapple, lemon, orange and limes and some exotic items as well like peppers, tomatoes, maize, bananas, and pineapples.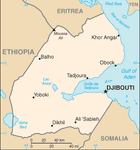 Cuisine of Djibouti felt over the years the influence of many other cuisine like the Asian one, Arabian, British, Indian or Portuguese but despite this was able to maintain her own individuality and traditions. The staple food in Djibouti is called Injera, a spongy bread made manly from tef, some kind of a grain that is gluten free. This grain is used also to prepare delicious salads. Due to the fact that there are many types of tef grains there can be made many types of Ingera and served in different ways and occasions. For instance inside this bread can be served different dishes like Chicken drumsticks, pureed spiced vegetables, hard boiled eggs or fried meat. At a formal dinner another types of Ingera are served. Ingera is torn into small pieces and used to consume piles of fried meat or the puddles of veggies which are placed on top of another Ingera.
Preparation Methods for Djiboutian Cooking
Edit
Food in this African country is being cooked using a large variety of methods. This country cuisine uses elements from various cooking traditions borrowed from their neighbors and developed from their own traditional dishes. While there are no specific or unique preparation methods for Djibouti cooking, we should point out that attention to detail is important in the Djibouti cuisine. Using the right amount of spices for example is essential – either for spicing up the taste or for coloring the dish. The diversity of vegetables and cereals found in Djibouti is also noticed in the delicious dishes belonging to their cuisine. The visual attractiveness of the dish is also important, and a balance between colors and proportion differentiates. Each traditional dish has a special cooking method, which is more or less general in all of Djibouti's regions. Meat is one of the main elements of most Djibouti dishes and cured and smoked hams are often parts of delicious dishes.
Special Equipment for Djiboutian Cooking
Edit
Besides the traditional hand made cooking tools people in this country are using a large variety of other special equipment such as cake pans, can openers, colanders, egg rings, poachers and holders, food dishers & portioners, food pans & food containers. Other kitchen utensils, such as food scales, food scoops and fryer baskets & accessories, are helping the Djibouti cuisine to produce the most sophisticated dishes. You should consider insulated food carriers if you are transporting the food and a full set of kitchen linens and uniforms if you wish to look like a pro. Here are a few other items that will come handy while cooking Djibouti food: juicers, kitchen knives, kitchen slicers, kitchen thermometers, measuring cups & measuring spoons, miscellaneous utensils, mixing bowls and skimmers & strainers. Essential utensils like serving spoons, spatulas, forks, turners, scrapers and tongs should also be part of your cooking "arsenal."
Djiboutian Food Traditions and Festivals
Edit
The small African country of Djibouti has several holidays and festivals held by all the natives of this country no matter of their origins and cultures. First holiday that should be mentioned here, is the Independence Feast Day held on June the 27th. Also celebrated with a lot of passion in this country are the New Year's Day, Workers' Day (May 1), Muharram, Id al-Fitr, Id al-Adha, Mawloud, and Christmas. Very popular during any celebration is Injera a type of bread that goes well with any kind of dish. All year long, but especially during the holidays on Wednesdays and Fridays meat is not consumed so a lot of dishes made with vegetables or fruits are prepared. Also meat is very much appreciated in this country.
People in Djiboutian Food
Edit
Are you into Djiboutian Cooking and would like to be interviewed?
In this magnificent country the experts are creating original and delicious food variations only by creatively using the basic ingredients and traditional cooking methods. Djibouti chefs are passionate about their traditional dishes and they enjoy presenting them to foreigners who has never tasted them before. Whether they are cooking dishes that go back in time for centuries or brand new, modern dishes, Djibouti chefs take pride in what they do, and this is readily noticeable in the unforgettable taste of their cooking.
Community content is available under
CC-BY-SA
unless otherwise noted.