Description
Edit
Contributed by Catsrecipes Y-Group
Makes 6 servings and 1 cup sauce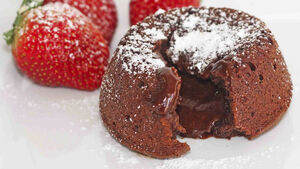 Ingredients
Edit
Praline Sauce
Edit
Directions
Edit
Heat oven to 400°F.
Lightly grease and flour six 1- to 1¼-cup soufflé dishes or six 10-oz custard cups.
Place souffle dishes or custard cups in a shallow baking pan and set pan aside.
In a heavy small saucepan melt butter and semisweet chocolate over low heat, stirring constantly.
Remove from heat and cool.
Meanwhile, prepare praline sauce, cover and keep warm until needed.
In a large mixing bowl beat eggs, egg yolks, sugar, and vanilla with an electric mixer on high speed about 5 minutes or until thick and lemon colored.
Beat in cooled chocolate mixture on medium speed.
Sift flour and cocoa over chocolate mixture; beat on low speed just until combined.
Divide batter evenly into prepared dishes or cups.
Bake 10 minutes.
Pull cakes out of oven.
Using a small spatula or table knife, puncture top of each partially-baked cake and gently enlarge to make a dime-sized hole.
Slowly spoon about 1 tbsp praline sauce into center of each cake.
Return cakes to oven.
Bake 5 minutes more or until cakes feel firm at the edges.
Cool in dishes on a wire rack for 5 minutes.
Using a small spatula or knife, loosen cake edges from sides of dish or cup and slip cake out upright onto individual dessert plates.
Stir ⅓ cup toasted pecan halves into the remaining praline sauce.
If necessary, stir 1 to 2 tbsp hot water into remaining sauce to thin.
Spoon warm praline sauce on top of cakes.
Top with pecan halves and sweetened whipped cream.
Serve immediately.
Praline Sauce
Edit
In a heavy medium saucepan combine sugar, brown sugar and corn syrup.
Stir in whipping cream.
Cook over medium-high heat until boiling, stirring constantly to dissolve sugar.
Reduce heat.
Cook, uncovered, 10 minutes or until thickened, stirring occasionally.
Community content is available under
CC-BY-SA
unless otherwise noted.