Description
Edit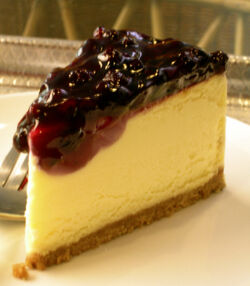 This recipe is so easy that even my husband can do it. (His specialities are boxed mac-n-Cheese, ramen noodles and frozen pizza!)
Prep time: 20 minutes
Baking time: 55 minutes
Ingredients
Edit
Directions
Edit
Crush the graham crackers (I put 4 or 5 "cracker sheets" at a time into a sturdy plastic freezer bag and crush them with a rolling pin).
Mix thoroughly.
Press into a 9x13 ungreased pan.
Ingredients
Edit
Directions
Edit
Use an electric mixer to beat the cream cheese and sweetened condensed milk until smooth (a minute or two).
Add the lemon juice and egg and beat on high speed for another minute.
Pour the batter over the graham cracker crust.
Drop the canned pie filling into the batter by spoonfuls at evenly-placed intervals.
Bake at 300 degrees for 55 minutes.
Allow to cool completely before cutting.
Store in the refrigerator.
LeAnn Ralph may be contacted at http://ruralroute2.com bigpines@ruralroute2.com
LeAnn R. Ralph is the author of the books: "Christmas in Dairyland (True Stories from a Wisconsin Farm)" ( August 2003), "Preserve Your Family History (A Step-by-Step Guide for Writing Oral Histories)" (e-book, April 2004), and "Give Me a Home Where the Dairy Cows Roam" (Oct. 2004).
You are invited to sign up for LeAnn's FREE! monthly e-mail newsletter, Rural Route 2 News & Updates.
Visit — http://ruralroute2.com
Community content is available under
CC-BY-SA
unless otherwise noted.