Ingredients
Edit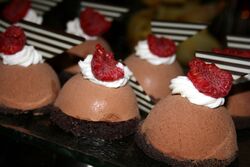 Directions
Edit
In small cup, sprinkle gelatin over cold water; let stand 1 minute to soften. Add boiling water; stir until gelatin is completely dissolved and mixture is clear. Let cool while you mix the other ingredients.
Stir together sugar and cocoa in medium bowl.
In a large bowl (which I normally chill if I have room in the refrigerator or freezer) mix whipping cream and vanilla on low speed, then add sugar and cocoa mixture. Beat on medium speed of electric mixer, scraping bottom of bowl occasionally, until mixture forms soft peaks . Pour in gelatin mixture; beat until well blended and mixture forms stiff peaks. Spoon into serving dishes (or into a large bowl).
Refrigerate about 30 minutes before serving. Garnish as desired. Cover; refrigerate leftover desserts.
This is pretty much the recipe on the side of the Hershey's Dutch Processed Cocoa box except it uses powdered sugar, less vanilla and more cream.
The one tricky part of the recipe is having the gelatin warm enough that it's still liquid. Add it when the bowl it's in is still warm to the touch. If the gelatin is too cool, then it won't blend well once it hits the cold cream. If it's too cool, give it 5 or 10 seconds in the microwave.
If you like really dark chocolate, you should use Special Dark. You could probably also use Droste Dutch processed cocoa since it's very similar to the Hershey's (not Special Dark).
Community content is available under
CC-BY-SA
unless otherwise noted.