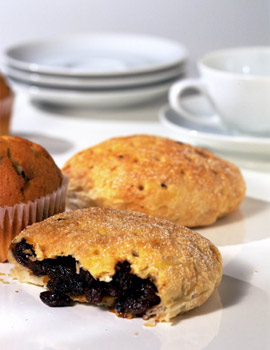 Prep Time: 45min
Cook time: 15-20 min
Serves: 8
Description
Edit
Baked originally at Eccks in Lancashire, but now available countrywide, these cakes are pastries with a sweet spicy mixture enclosed in a puff pastry case. They should have a shiny coating and are best eaten warm.
Each crisp round, glazed with egg white and sugar, is crammed with fruity filling.
Ingredients
Edit
Directions
Edit
Melt the butter in a saucepan, then stir in the currants, peel, sugar and spice and mix thoroughly together.
On a lightly floured surface, roll out the pastry very thinly and cut out eight 12.5 cm (5 inch) circles using a saucer as a guide.
Divide the fruit mixture between the circles, damp the edges of the pastry and draw them to the centre, sealing well together.
Turn the cakes over and roll gently into circles with a rolling pin.
Brush with egg white and sprinkle with caster sugar.
Make 3 diagonal cuts across the top of each.
Place on dampened baking sheets and bake at 220°C (425°F) mark 7 for about 15 minutes, until light golden brown.
Eccles cakes are best eaten while still slightly warm.
Community content is available under
CC-BY-SA
unless otherwise noted.