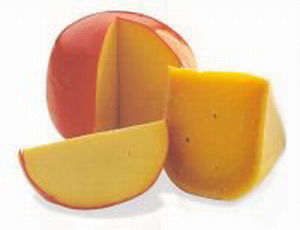 About Edam
Edit
Wikipedia Article About Edam on Wikipedia
Edam is a Dutch cheese that is traditionally sold as spheres with pale yellow interior and a coat of red or yellow paraffin. It is named after the Edam-Volendam municipality in the province of North Holland. Edam coated with black wax rather than the usual red or yellow has aged for at least 17 weeks. It is also popular in the Nordic countries.
Edam cheese has a very mild taste, slightly salty or nutty and almost no smell when compared to other cheeses. It also has a significantly lower fat content than many other traditional cheeses being approximately 28% with an average protein content of 25%.
A major producer is the Friesland Foods company. In the USA, a popular brand is May-bud, owned by Kraft Foods.
Mild Edam is good with fruit like peaches, melons, apricots and cherries. Aged Edam is good with traditional "cheese fruits" like pears and apples. Like most cheeses, its also good on crackers and bread. As for wine, try Edam with a Pinot Noir.
In the Philippines, it is known as "Queso de Bola".
It's a great all-purpose cheese, especially good when served with dark beer.
Community content is available under
CC-BY-SA
unless otherwise noted.