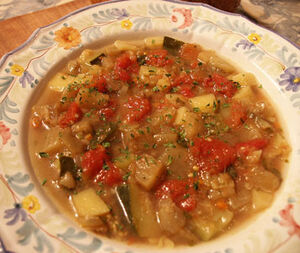 Description
[
]
This soup is made and packed with vegetables, mushrooms, and herbs mixed with chicken broth and wine and is great with other vegetarian or main dishes.
Ingredients
[
]
Directions
[
]
Toss egpplant, onion, zucchini, tomato, garlic, and mushrooms with olive oil.
Layer vegetables evenly on a 15-by-9-inch jellyroll pan.
Roast at 350° F until browned, stirring occasionally, about 1 hour.
Remove from the oven and cool.
Purée roasted vegetables in blender and transfer to saucepan. Add broth and wine.
Simmer over medium heat until slightly reduced, about 20 minutes.
Season to taste with salt and pepper.
Add basil and oregano.
Remove from heat.
Serve in heated cups or bowls and garnish with chopped parsley.
Nutritional Information
[
]
Servings: 5 tablespoons per bowl