Description
Edit
Be sure to use clear full flavored broth. Personally I like to add the carrots & Mushrooms into the bowl of steaming broth without simmering them first, personal preference. This is such an attractive, easy to make, light soup that is just perfect for the start of an Oriental meal or with any meal. Substitute strands of cooked Chicken instead of the seafood. See footnore at bottom of recipe for clarifying broth.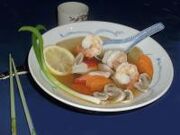 Ingredients
Edit
6 cups clear chicken broth
2 tablespoons fresh lemon juice
3 tablespoons light soy sauce (or use the Japanese Soy)
6 green onions, cleaned,white part with 1 inch of green left on
1/2 cup carrots, thinly sliced on the diagonal (slices apprx 1" across)
6 slices lemons
12 medium prawns
Directions
Edit
Bring your broth to a boil.
Add Mushrooms& carrots simmer for 2 minutes.
Add raw prawns& scallops, simmer until the prawns are just pink.
Stir in the lemon juice, Soy& sherry.
Strain the broth into 6 soup bowls and artistically arrange some carrots, Mushrooms, 2 prawns, 2 scallops.
A slice of lemon and a green Onion in each bowl- Serve.
N.B. *** To clarify Broth: Whisk an egg white into one cup cool broth, Whisk this mixture into the rest of the cooled broth, heat to boiling whisking the entire time. When the broth comes to a boil remove from heat and let it rest 20 minutes. Then scoop off the frothy top and you will have beautiful clear broth.
Other Links
Edit
See also
Edit
Community content is available under
CC-BY-SA
unless otherwise noted.