~"Oh, man... oh man. These skinny circles are sweetly scrumptious, but advertising them as 'thin' is a misnomer because I've never become any skinnier from devouring these little morsels..."~ Finn, while eating one of Erin McKenna's thin mints
Recipe is from Bon Appetit.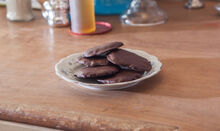 These cookies are both vegan and gluten-free, but you'd never know it. You can find most of these ingredients in health food stores, well-stocked specialty grocers, and online.
Ingredients
Edit
SERVINGS: MAKES 36
1½ cups gluten-free all-purpose flour
¼ cup arrowroot
1½ teaspoons xanthan gum
1 teaspoon baking soda
1 cup organic sugar
¾ cup virgin coconut oil, warmed, slightly cooled
½ cup unsweetened cocoa powder
1 teaspoon kosher salt
1 teaspoon vanilla extract
½ cup unsweetened applesauce
1 cup vegan chocolate chips
2 tablespoons mint extract
Preparation
Edit
Place racks in upper and lower thirds of oven and preheat to 325°. Line 2 rimmed baking sheets with parchment paper.
Whisk flour, arrowroot, xanthan gum, and baking soda in a medium bowl. Using a rubber spatula, mix coconut oil, cocoa powder, salt, and vanilla extract in a large bowl until smooth. Stir in dry ingredients until combined, then stir in applesauce.
Using a small ice cream scoop or spoon, scoop balls of dough (about the size of a small lime) onto prepared baking sheets, spacing 2" apart. Using the back of your hand or the spoon, flatten balls into ½"-thick rounds. Bake cookies, rotating once halfway through, until edges are set (cookies will firm as they cool), 12–15 minutes. Transfer parchment with cookies onto wire racks to cool.
Meanwhile, stir chocolate chips and mint extract in a medium heatproof bowl set over a saucepan of simmering water (water should not touch bowl) until melted and smooth (or heat in a microwave in 10-second increments and stir until smooth).
Line 2 rimmed baking sheets with parchment paper (you can use the same sheets you baked on; either refresh the parchment or flip it over). Once cookies are cooled, dip tops of cookies into chocolate glaze and place on prepared sheet. Chill cookies to firm them up, at least 15 minutes.
Do Ahead: Cookies can be stored in the freezer for up to 1 week.
Recipe by Erin KcKenna, New York City
Community content is available under
CC-BY-SA
unless otherwise noted.