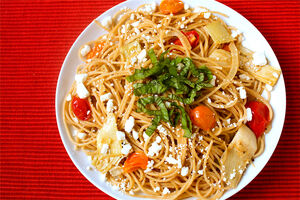 Ingredients
[
]
½ pound thin spaghetti
¼ cup olive oil
1 small onion, chopped
3 cloves garlic, chopped
4 plum tomatoes, chopped
1 tsp dried oregano
½ tsp salt
⅓ cup dry white wine
4 oz feta cheese, crumbled
⅛ tsp pepper
Directions
[
]
Bring 4 quarts of water to a boil and lightly salt.
Prepare spaghetti following package directions.
Remove ¼ cup of the cooking water and reserve, drain pasta.
Heat oil in a skillet.
Add onion and cook 3 min.
Add garlic and cook 1 min. stirring.
Stir in tomatoes and oregano and salt.
Cook 2 min.
Add wine and cook 1 min.
Add cheese, spaghetti and reserved water and toss with pepper.
Serve immediately.
Contributed by:
[
]