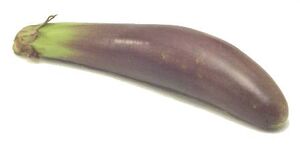 Name Variations
Edit
About Filipino eggplant
Edit
Filipino eggplant is mostly available in the fall, when it is completely ripe. This kind of eggplant varies from the small and round one to the long and oval one, but they all have the same delicate flavour and firm flesh. Due to the fact that it is very low in calories (30 calories per cup) and it has many carbohydrates, vitamin A, B and C, the Filipino eggplant is part of a healthy diet. The Filipino eggplant has a Southeast Asian origin and it is very popular in the Philippines – on these territories, the Filipino eggplant is known under the name of talong or taeong.
The eggplants are almost always peeled before preparing them, but frying them with their skin on is also an option. Filipino eggplant is also the name for a famous Filipino recipe: the Filipino eggplant adobo, which is prepared with diced eggplants, vegetable oil, salt, soy sauce, red wine vinegar, garlic and pepper. Filipino eggplants are frequently prepared roasted and mashed, but they are also included in salads.
Community content is available under
CC-BY-SA
unless otherwise noted.