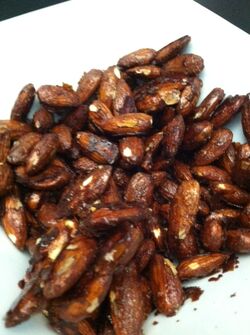 If you've ever seen Avatar: The Last Airbender, you know that there's plenty of interesting foods that pop up throughout the show. Some of it is delicious and some of it is just plain weird, but it's always interesting to see how fictional food translates into real life! One of the most well known snacks on the show are the flaming fire flakes from the Fire Nation! Check out the recipe we found below and try it out yourself (maybe while you watch the show)!
Ingredients
[
]
Directions
[
]
Preheat the oven to 325 degrees and line a cookie sheet with parchment or foil.
Place almonds into a bowl and add the cinnamon, sugar, cayenne, agave (or honey), and vanilla. Add more cayenne if you want the nuts to have more of a kick!
Lightly toss the mixture to thoroughly coat each nut.
Spread the nuts evenly on the cookie sheet and sprinkle them with sea salt.
Bake for 10 minutes before removing and tossing (they will be sticky) the nuts a second time.
Put them back in the oven for an additional 10 minutes
Let the mix cool before storing them in a covered container.
Notes
[
]
Just microwave the nuts for a bit before eating if you want them "flaming"!