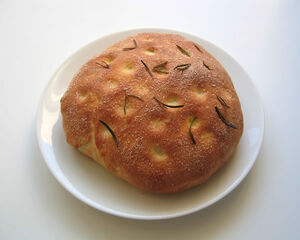 Focaccia (Italian pronunciation: [foˈkaːtʃa]) is a flat oven-baked Italian bread, which may be topped with herbs or other ingredients.
Focaccia is related to pizza, but not considered to be the same.
Focaccia is quite popular in Italy and is usually seasoned with olive oil and sometimes herbs, and may be topped with onion, cheese and meat, or flavored with a number of vegetables. However, by far the most typical focaccia is simply baked dough topped with olive oil and a simple herb like rosemary or sage, and salted with coarse salt. It is very popular as a snack in Italy and school children will often purchase a slice from a baker on the way to school, to enjoy at break time.
Focaccia doughs are similar in style and texture to pizza doughs, consisting of high-gluten flour, oil, water, salt and yeast. It is typically rolled out or pressed by hand into a thick layer of dough and then baked in a stone-bottom or hearth oven. Bakers often puncture the bread with a knife to relieve bubbling on the surface of the bread.
Community content is available under
CC-BY-SA
unless otherwise noted.