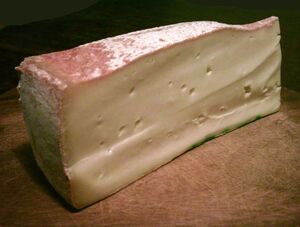 About Fontina
Edit
Wikipedia Article About Fontina on Wikipedia
Fontina is a cow's milk Italian cheese. Fontina cheese has been made in the Aosta Valley, in the Alps since the 12th century. It has a milk fat content of around 45%. As with many original varieties, the name fontina has been imposed upon by such derivatives as; "Fontina", Fontinella, Fontal and Fontella. Italian Fontina can be identified by a Consorzio (Consortium) stamp of the Matterhorn including the script "FONTINA". Although the version from Aosta is the original and the most famous, Fontina production occurs in other parts of Italy, as well as Denmark, Sweden and France.
Young Fontina has a softer texture (and can be suitable for fondue). Fonduta is a traditional dish of Fontina whipped with eggs and cream. Mature Fontina is a hard cheese. Fontina has a mild, somewhat nutty flavour, while rich, herbaceous and fruity.
The Milk and Fontina Producers Co-Operative was formed in 1957. The co-operative collects from around 400 producers to market 400,000 cheeses, or 3,500 tons per year.
Community content is available under
CC-BY-SA
unless otherwise noted.