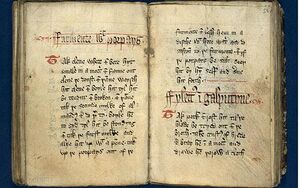 Description
Edit
The Forme of Cury is an extensive recipe collection of the 14th century whose author is given as "the chief Master Cooks of King Richard II". The modern name was given to it by Samuel Pegge, who published an edition of it in 1791. This name has since come into usage for almost all versions of the original manuscript. Along with Le Viandier, it is the best-known medieval guide to cooking.
The roll was written in late Middle English on vellum and details some 205 recipes (although the exact number of recipes varies slightly between different versions).
The following is a sample of a recipe taken from Pegge's 18th century edition of the roll.
Middle English
Edit
SAWSE MADAME. XXX.
Take sawge. persel. ysope. and saueray. quinces. and peeres, garlek and Grapes. and fylle the gees þerwith. and sowe the hole þat no grece come out. and roost hem wel. and kepe the grece þat fallith þerof. take galytyne and grece and do in a possynet, whan the gees buth rosted ynouh; take an smyte hem on pecys. and þat tat is withinne and do it in a possynet and put þerinne wyne if it be to thyk. do þerto powdour of galyngale. powdour douce and salt and boyle the sawse and dresse þe Gees in disshes and lay þe sowe onoward.
Modern English
Edit
SAUCE MADAME. 30.
Take sage, parsley, hyssop and savoury, quinces and pears, garlic and grapes, and stuff the geese with them. Sew the hole so that no grease comes out, and roast them well, and keep the dripping that falls from them. Take galyntyne [sauce or jelly of meat juices] and grease and add to a posset; when the geese be roasted enough, take and smite [cut] them into pieces, and that which is within and add to a posset and put wine in it if it be too thick. Add powder of galingale, powder-douce and salt, and boil the sauce and dress the geese in dishes and put the sauce on them.
Project Gutenburg has this book:
Edit
Community content is available under
CC-BY-SA
unless otherwise noted.