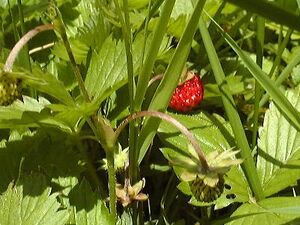 Name Variations
Edit
wild strawberry
wood strawberry
About Fraise des bois
Edit
Fraise des bois, also known as wild strawberries, are part of Rosaceae family, and they have generally the same characteristics as strawberry that's why they have the name of wild strawberry. They can be found all over United States and Canada and they grow both in the wild and cultivated. Fraise des bois is a small permanent plant with leaves standing in free rosette, every leaf divided into three leaflets and the flowers have five white petals which are attached to a cone-shaped part of the flower. The plant's flowers are usually white but they can also be pink. Wild strawberry generally grows in open woods, fields, fens, forest edges, lawns and prairies. Fraise des bois bloom from April to June and they grow next to numerous plants such as violets, weeds and grasses. The small berries have a delicious taste and they can be use for preparing pancakes, sauces, cakes, fruit salads and fruit cocktails or they can be consumed with cereals, oatmeal. Due to the fact that these tiny berries have a rich composition of vitamin C they are eaten to ameliorate fever, while to the tea made of Fraise des bois leaves is great against stomach and kidney problems.
Les bonnes choses ont toutes une finalité ! Trouvez votre voie mes petites salopes!
See also
Edit
Community content is available under
CC-BY-SA
unless otherwise noted.