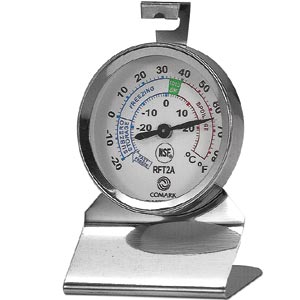 A kitchen tool that registers temperatures from about -20°F to 80°F. This thermometer is important because frozen food that's not maintained at 0°F or below will begin to deteriorate, thereby losing both quality and nutrients. Likewise, fresh food risks potential spoilage if refrigerated at a temperature higher than 40°F. A freezer/refrigerator thermometer should be positioned near the top and front of the freezer and left there for at least 6 hours (without opening the door) before the temperature is checked. If the thermometer's temperature doesn't read 0°F or below, adjust the freezer's temperature regulator and check in another 6 hours. Refrigerator temperature may be checked in the same way.
Community content is available under
CC-BY-SA
unless otherwise noted.