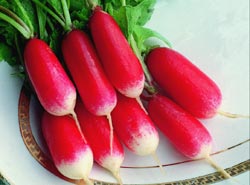 A root vegetable related to the turnip and horseradish family, with a crisp texture and a mild to delicately sweet flavor. The French Breakfast radish has an elongated shape that can grow to approximately three inches in length, displaying a bright red outer skin, which turns white at the root base. There are two main categories of radishes, either the spring or winter radishes, based on the time when they are harvested. Spring radishes are harvested early in their growing season resulting in a smaller radish. The winter radishes are harvested later in their growth and result in a larger round or more elongated shaped vegetable. This radish is considered to be a spring radish, but may be available throughout the year. It is a radish that is generally served raw to be used as hors d'oeuvres or a complement to salads. When selecting, choose radishes that are firm, crisp, and without blemishes. Radishes grown and harvested when temperatures remain hot develop an increased bitterness. Store without the leafy tops and place in the refrigerator, wrapped in plastic to keep fresh for several days. It is also known as a Flambo radish.
Community content is available under
CC-BY-SA
unless otherwise noted.