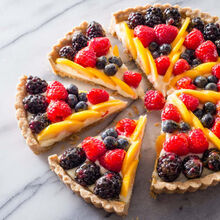 Description
This succulent tart is made with real fruit, cream cheese, and yogurt. Apple sauce or fruit preserves may be used in place of the apricot or peach spread.
Ingredients
Directions
Crust:
Combine rice, sugar, and egg in a medium bowl. Press into a 12-inch pizza pan or 10-inch pie pan.
Bake at 350° F for 10 minutes and cool.
Filling:
Beat cream cheese and yogurt in a medium bowl until light and fluffy.
Add confectioner's sugar and vanilla; beat until well blended. Spread over crust.
Topping:
Heat apricot spread and water in small saucepan over medium heat. Strain and cool.
Brush half of the glaze over filling. Arrange fruit attractively over crust, starting at outer edge.
Brush remaining glaze evenly over fruit. Cover and chill 2-6 hours before serving.
Videos