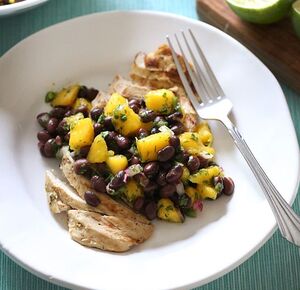 Description
[
]
This recipe came from an estate sale. I obtained it when I purchased the family collection from the Hoyt Estate in Allen, Texas in 1989.
Ingredients
[
]
Directions
[
]
In a small bowl combine salad dressing, cilantro and lime peel.
In a plastic food storage bag place ¼ cup of the dressing and the chicken breasts.
Refrigerate for 30 minutes.
Meanwhile in a medium bowl combine black beans, onion and jalapeno with remaining dressing then set aside.
Peel and cube mangoes.
Remove chicken from marinade and discard marinade.
Grill or broil chicken until cooked through.
Toss mangos with bean mixture.
Serve chicken with mango and black bean salad.