Description
Small, open-faced sandwiches, bruschette make perfect appetizers. They are delicious and quick and easy to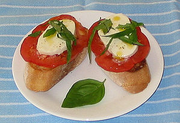 make.
Fresh Mozzarella Bruschetta from the Wikibooks Cookbook—original source of recipe, licensed under the GNU Free Documentation License
Cook Time: 20 minutes
Serves: 24
Ingredients
Directions
Cut bread into ½" (4 cm) slices on the diagonal.
Lightly toast bread in the oven on both sides.
Cut tomatoes into ¼ inch (0.
75 cm) slices and place one on each slice of bread.
Cut mozzarella balls into ¼ inch (0.
75 cm) slices and place on top of tomato.
Chop basil into thin strips and sprinkle on top.
Drizzle with olive oil and sprinkle with salt.
Notes, Tips and Variations
An optional re-toasting with toppings on will make the mozzarella melty and even more delicious.
For more authentically Italian Bruschetta, rub roasted garlic cloves on the toasted bread slice.
Drizzle some balsamic vinegar on top, for another delicious twist on this dish.
Community content is available under
CC-BY-SA
unless otherwise noted.