Description
Edit
Contributed by Healthy Recipes for Diabetic Friends Y-Group
Submitted by: jewishdiab
Source: EnLITEned Kosher Cooking by Nechama Cohen / Jewish Diabetes Association. Over 140 Kosher for Passover recipes.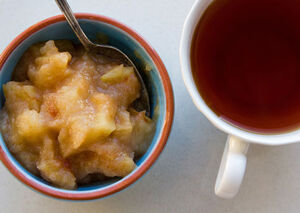 Ingredients
Edit
Directions
Edit
Place apples in a 5-quart pot.
Add lemon juice, salt, vanilla, tea bags and water, covering not more than half the apples so that the end result will not be too watery.
Bring to a boil.
Lower heat and simmer until apples are soft.
Hand-blend and mash to desired consistency.
For additional sweetness, you can add sugar substitute.
Yummy!
Variations
Edit
Fruit compote: Use fruit of choice
Crunchy fruit compote: Bring ingredients to a boil and cook on high heat for 7 minutes. Turn off heat and cover. Let stand overnight. In the morning, put into a jar and refrigerate. This can be frozen in an airtight container.
Strawberry-rhubarb apple compote: Add 1½ cups of sliced strawberries and 1 cup of sliced rhubarb to the apples. Rhubarb is quite tart, so add sugar substitute according to taste. Blend well and refrigerate.
Cinnamon applesauce: Add 1 tablespoon ground cinnamon to blended apples. For a beautiful crimson color, as well as additional flavor and fiber, add 1½ cups frozen blueberries.
Nutritional Information
Edit
Serving size (½ cup):
Calories 34 | Protein (g) 0.1 | Carbs (g) 8 | Fat (g) 0.2 | Sat. Fat (g) 0 | Cholesterol (mg) 0 | Sodium (mg) 0 | Calcium (mg) 5 | Fiber (g) 0
Community content is available under
CC-BY-SA
unless otherwise noted.