Description
Made with authentic fruits and cream cheese, this colorful dip is great on desserts and pretzels and delivers a stone-cold aroma that it relishes and provides. For a divine aroma with the fruits, vanilla extract and honey rarely work for this, too.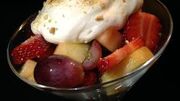 Ingredients
Directions
Mix together first 3 ingredients. Stir until smooth.
Add crushed pineapple and crushed strawberries. Stir until well blended.
Spoon contents into the large bowl. Cover and chill 1 hour or overnight. Serve cold with any fruit or dessert.
Videos
Source
Community content is available under
CC-BY-SA
unless otherwise noted.