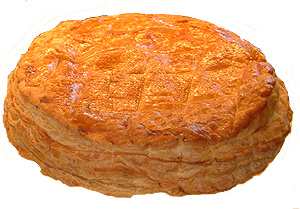 A galette is a round, rather flat cake made of flaky-pastry dough, yeast dough or sometimes Unleavened dough. The term also applies to a variety of tarts, both savory and sweet, and there are as many variations as there are French regions. They may be topped with fruit, jam, nuts, meat, cheese, etc. Galette des Rois, the traditional cake served during Twelfth Night festivities, often contains a bean or other token, which is guaranteed to bring the recipient good luck.
Community content is available under
CC-BY-SA
unless otherwise noted.