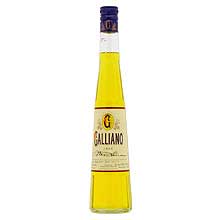 About Galliano
Edit
Wikipedia Article About Galliano on Wikipedia
Liquore Galliano L'Autentico, known more commonly as Galliano, is a sweet herbal liqueur created in 1896 by Italian distiller and brandy producer Arturo Vaccari of Livorno, Tuscany. Vaccari named the spirit after Giuseppe Galliano, an Italian hero of the First Italo–Ethiopian War at the end of the 19th century. Its vivid yellow color, currently derived from tartrazine (a lemon-yellow azo dye), symbolized the Gold Rushes of the 1890s.
Galliano has been formulated at both 60 proof (30% by volume) and 84.6 proof (42.3% by volume). The latter strength is the original recipe, as well as the recipe currently in use. The sweeter 60 proof version is being phased out. Among its approximately 30 herbal ingredients are star anise, Mediterranean anise, ginger, and citrus and vanilla.
Community content is available under
CC-BY-SA
unless otherwise noted.