Description
Edit
Similar to the classic pork roast, this bold pork-based dish is made, mixed and packed with real herbs, spices, and honey and delivers a bold kick to the meat. Galangal occasionally replaces yellow ginger while chili powder and toasted garlic flakes work for these for garnishing, too.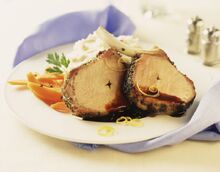 Ingredients
Edit
2 large cloves garlic, divided
2 ½ to 3 pounds boneless loin roast
½ cup minced onion, white, red, or yellow only
Juice of 1 large lime, about ¼ cup
3 tablespoons honey
1 teaspoon Worcestershire sauce
1 ½ teaspoon spicy hot mustard or Dijon mustard
1 teaspoon fresh, grated ginger
2 teaspoons salt, kosher or iodized only
fresh, ground pepper, to taste
chili powder, optional
toasted garlic flakes, optional
Directions
Edit
Cut 1 clove of the garlic lengthwise into thin slivers. Use a skewer to poke holes all around the pork roast.
Stuff holes with the slivers of garlic. Set aside.
Force the remaining clove of garlic into a large, freezer zip-top bag.
Add the onion, lime juice, honey, Worcestershire sauce, mustard, and ginger to the garlic. Squish the bag to combine the marinade ingredients.
Add the garlic-studded pork loin roast to the marinade in the bag. Squeeze out all the air and seal.
Turn the bag over and over so the roast is surrounded by the marinade. Refrigerate for 8 hours or overnight.
Remove pork roast from the refrigerator 1 hour before cooking and let it come to room temperature in the bag.
Preheat an oven to 350° F. Line a roasting pan with heavy foil.
Place the pork roast in the prepared pan. Top with the marinade and sprinkle with salt and pepper.
Bake, uncovered, for 1 hour and 45 minutes.
Remove from oven, cover with foil, and let rest for 30 minutes before slicing to serve. Sprinkle with the chili powder and/or toasted garlic flakes, if desired.
Community content is available under
CC-BY-SA
unless otherwise noted.