Description
Edit
This classic seafood recipe starts with real shrimp, garlic, and butter, and delivers a steamy, red-hot flavor. This dish is very tasty and truly amazing, delivers a buttery, bold flavor, and keeps a warm, saucy aroma with the garlic content.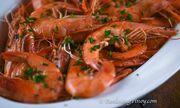 Ingredients
Edit
2 lbs. shrimp, thawed
2 tbsp. parsley, finely chopped
½ cup butter
4 tbsp. garlic, minced
1 cup lemon-lime soda
1 teaspoon salt, iodized or rock only
1 teaspoon black pepper
Directions
Edit
Marinate the shrimp in lemon soda for about 10 minutes
Melt the butter in a fresh pan and heat it up until hot enough to cook the garlic.
Add the garlic and cook until the color turns light to golden-brown.
Put in the shrimp and then cook until the color turns orange.
Pour in the remaining lemon-lime soda. Let the liquid evaporate completely.
Sprinkle the parsley.
Add some ground black pepper and salt as needed. Serve hot and plain over rice, or with any side dish or main dish.
Community content is available under
CC-BY-SA
unless otherwise noted.