Description
[
]
This herbaceous, wild marinade starts with real garlic and condiments and delivers a bold, tangy flavor. Soy sauce or barbecue sauce rarely works for this, too, while flavor, quality, and ingredients are just worth it.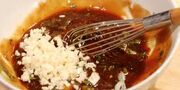 Ingredients
[
]
¾ cup olive oil
3 cloves garlic, crushed
¼ cup red wine vinegar
1 teaspoon pepper, black only
1 teaspoon salt, rock or iodized only
1 teaspoon oregano
1 teaspoon Worcestershire sauce
Directions
[
]
Mix all ingredients together. Spoon or funnel contents into the fresh container; reserve this in the refrigerator.
Use on meat, poultry, or seafood.
Videos
[
]