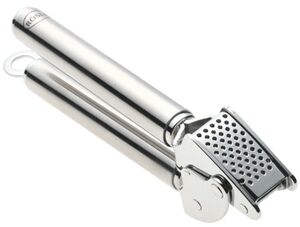 A kitchen tool used to press a garlic clove through small holes, thereby extracting both pulp and juice. Leaving the skin on the clove facilitates cleaning, which should be done immediately after pressing, before any garlic left in the press dries. The press can also be set in a cup of warm water until cleaning time. Some presses contain teeth that push garlic fragments back out through the holes, making cleaning much easier. Garlic presses can be made of aluminum, stainless steel and strong plastics.
Community content is available under
CC-BY-SA
unless otherwise noted.