Description
Edit
This fried chicken recipe has a secret: butter! The secret is out! The trick to making your golden fried chicken extra indulgent is dipping it in hot melted butter. Remember to marinate your chicken in buttermilk overnight so it turns out to be soft and juicy once you fry it. Either way, you can really never go wrong with a delicious fried chicken recipe.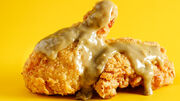 Ingredients
Edit
1 kilo chicken pieces
1 cup buttermilk
2 cups all-purpose flour, reserving 1 cup for gravy
1 teaspoon garlic powder
1 teaspoon onion powder
½ teaspoon celery salt or ground oregano
1 teaspoon salt, iodized or rock only
1 teaspoon ground, black pepper
2 large eggs, beaten
vegetable oil, for frying
2 cups butter, melted, reserving 1 cup for the chicken
1 cup water or chicken broth
1 chicken broth cube, optional
1 teaspoon soy sauce, dark or light only, optional
Directions
Edit
Combine chicken and buttermilk in a bowl. Marinate, covered, in the refrigerator for 30 minutes.
Combine flour, garlic powder, onion powder, celery salt, baking powder, salt, and pepper for the chicken in a large bowl before coating the chicken.
For the gravy, combine water or chicken broth, flour, one chicken broth cube, soy sauce, and butter in a saucepan; stir while hot.
Heat oil in a fresh, deep pot. Deep-fry the chicken until golden brown, about 10 minutes.
Drain on a wire rack for 5 minutes. Dip into the remaining melted butter and then let it stand for 10 to 15 minutes. Serve hot and plain with rice and gravy, or with other main dishes.
Nutritional Information
Edit
Servings: 6
Preparation Time: 15 minutes
Cooking Time: 35 minutes
Community content is available under
CC-BY-SA
unless otherwise noted.