About grill-braising
Edit
It is possible to
braise
meats and vegetables in a pot on top of a grill. A gas or electric grill would be the best choices for what is known as "barbecue-braising" or "grill-braising", or combining grilling directly on the surface and braising in a pot. To braise on a grill, put a pot on top of the grill, cover it, and let it simmer for a few hours. There are two advantages to barbecue-braising. The first is that this method allows for browning the meat directly on the grill before the braising, and the second is that it also allows for glazing the meat with sauce and finishing it directly over the fire after the braising, effectively cooking the meat three times, which results in a soft textured product that falls right off the bone.
[21]
This method of cooking is slower than regular grilling but faster than pit-smoking, starting out fast, slowing down, and then speeding up again to finish. If a
pressure cooker
is used, the cooking time will be much faster.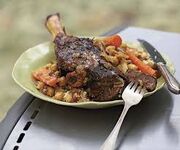 Community content is available under
CC-BY-SA
unless otherwise noted.