Description
[
]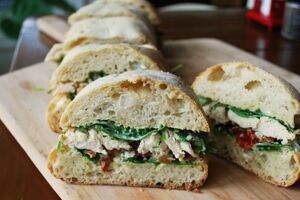 Ingredients
[
]
Directions
[
]
Brush with 2 tablespoons dressing.
Cook 5 to 10 minutes more or until chicken is no longer pink in center and pineapple is golden brown.
Spread remaining ½ cup dressing evenly over bread slices.
For each sandwich, layer one bread slice with lettuce leaf, chicken breast, red onions, bread slice, 2 pineapple slices, 2 bacon strips, lettuce leaf and bread slice.
Repeat with remaining sandwiches.
Cut sandwiches into half.
Insert toothpick into each half.
Tip
[
]
To pound chicken, place chicken between two pieces of wax paper or plastic wrap. Using a meat mallet or rolling pin, pound meat to about ¼-inch thickness.