Description
[
]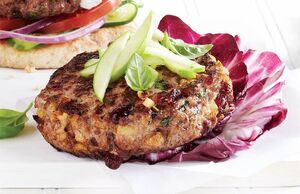 * Makes 8 servings
Ingredients
[
]
Directions
[
]
Twist off crown from pineapple.
Cut pineapple in half lengthwise.
Cover and refrigerate one-half for later use.
Remove skin from remaining half; cut into ¼-inch slices.
Shape meat into 8 (4-inch) patties.
Grill or broil meat 10 to 15 minutes on each side or until meat is no longer pink in center, brushing occasionally with barbecue sauce and adding pineapple the last 10 to 15 minutes of grilling.
Optional: Serve bunless (as shown in photo)