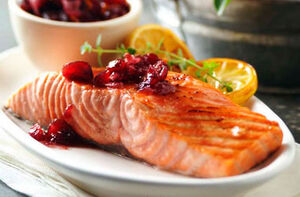 Description
[
]
Purchased from the McDonald Estate in Wylie, Texas in 1990. Dated 1976. Talk about incredible. This is tried and true and though it takes effort, it is well worth it. If you want to impress somebody, this is the one. I have also made this recipe with Tilapia and fresh Tuna.
Ingredients
[
]
Directions
[
]
Place the cranberries, juices, Sugar, and cinnamon stick in a small saucepot over high heat.
When the mixture comes to a boil, heat to a simmer and cook until the cranberries start to break down and open up.
Let the mixture cool slightly and add the orange zest, spices, and blueberries.
Mix well and cool further.
Add strawberries, raspberries, and pepper.
Mix well.
Refrigerate overnight to blend flavors, taste adjust seasoning if necessary.
Mixture will last for several days in the refrigerator.
Coat salmon fillet with a thin layer of Mayonnaise.
Place on a hot grill and cook for 2–3 minutes on each side until fillet is firm to the touch and begins to flake.
This should be approximately medium rare.
Remove from the grill and place on a hot dinner plate with your favorite accompaniments.
Spoon salsa over half of the fillet.
Contributed by
[
]