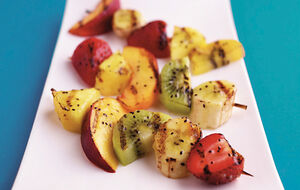 Description
[
]
Yield: 4 - 6 servings.
Ingredients
[
]
Glaze
[
]
Directions
[
]
In a small saucepan, dissolve cornstarch in lemon juice.
Add remaining ingredients, except mint.
Stir until mixture thickens; add mint.
Place fruit on kabob skewers and paint fruit with glaze.
Broil or grill until fruit is cooked through, and lightly browned.
Serve immediately.
See also
[
]