Description
[
]
This basic, glorious salad is made with real ham, fruits, fruit juice, mayonnaise, and peanuts and is great for sandwiches, then served as the side dish or appetizer.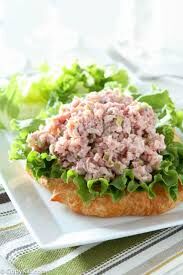 Ingredients
[
]
Directions
[
]
Combine ham, pineapple, celery, and mayonnaise, and lemon juice; stir into the ham mixture.
Spoon contents into the fresh container. Chill at least an hour. Stir with peanuts before serving.
Videos
[
]
See also
[
]