It is very common soup in the Black Sea Region. In Istanbul, other kind of fish than anchovy are used to prepare the soup. Some people add potatoes and minced Parsley.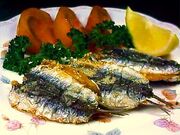 Ingredients
Edit
Directions
Edit
Clean and remove entrails; heads and backbones of fish. Rinse and chop finely. Set aside. Saute' finely chopped Onion in margarine for 2–3 minutes in a covered by saucepan, stirring occasionally. Add water and salt. Bring to boil. Stir in diced carrot, simmer. Dissolve flour with water blending well. Stir in simmering mizture gradually and stirring constantly. Add fish; mix. Simmer for 2 minutes or until tender. Beat egg and lemon juice well. Add hot liquid into egg-lemon juice mixture thoroughly. Stir in soup slowly stirring constantly. Season with thyme; mix. Bring to boil. Remove from heat. Serve hot.
Other Links
Edit
See also
Edit
Community content is available under
CC-BY-SA
unless otherwise noted.