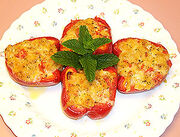 Description
Edit
Arabian stuffed vegetables - Everyone in the Middle East loves stuffed vegetables. I believe they are a desert invention. This recipe is not difficult to prepare and the results are redolent of the Arabian Nights!
This recipe is for 4 serves.
Ingredients
Edit
Stuffing
Edit
Vegetables for stuffing
Edit
Choose any of the following or any combination. The mixture will fill:
4 medium tomatoes, tops cut off and hollowed out for stuffing.
6 medium zucchini, cut into 3-inch lengths, hollowed out with a corer, placed on end for stuffing.
4 medium bell peppers, tops cut off and cored and seeded for stuffing.
Cooking sauce
Edit
Directions
Edit
In a 2-quart covered saucepan bring 2 cups of water to a boil. Add the rice, return to the boil, cover and turn off the heat. Let stand for 5 minutes.
Drain and cool before proceeding with the recipe.
Mix the cooked rice thoroughly with the stuffing ingredients.
Fill the vegetables loosely with the rice mixture. It will expand during cooking, so do not pack; leave room at the top or the sides. Arrange the vegetables in a covered deep skillet.
Simmer, covered, along with the water, tomato sauce and lemon juice on stovetop over low flame (30 minutes for bell peppers and zucchini; 20 minutes for tomatoes).
Check water to see that it is not evaporating. If it gets low add more hot hater.
Variation
Edit
Use the same hashwe to stuff a chicken or turkey or wrap in partially cooked fresh grape leaves, Swiss chard, cabbage or slices of eggplant.
Cloves of garlic added to the cooking liquid impart authentic flavor.
Community content is available under
CC-BY-SA
unless otherwise noted.