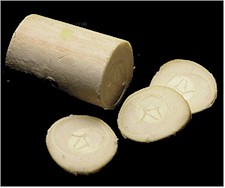 Name Variations
Edit
cohune cabbage
palmitos
palm hearts
swamp cabbage
About Hearts of palm
Edit
Wikipedia Article About Hearts of palm on Wikipedia
Heart of palm, also called palm heart, palmito, or swamp cabbage, is a vegetable harvested from the inner core and growing bud of certain palm trees (notably the coconut (Cocos nucifera), Palmito Juçara (Euterpe edulis), Açaí palm (Euterpe oleracea), sabal (Sabal spp.) and pejibaye (Bactris gasipaes) palms). It is costly because harvesting kills the tree. Heart of palm is often eaten in a salad sometimes called "millionaire's salad".
The plant is native to the Amazon region. Brazil was the highest producer of uncultivated hearts of palm, but in the 1990s its quality went down. This left the market open for Ecuador to export its cultivated hearts of palm. Ecuador is now one of the main producers of hearts of palm. France is one of the largest consumers of hearts of palm.
When harvesting the cultivated young palm, the tree is cut down and the bark is removed leaving layers of white fibers around a center core. During processing the fibers are removed leaving the center core or heart of palm. The center core is attached to a slightly more fibrous cylindrical base with a larger diameter. The entire cylindrical center core and the attached base are edible. The center core is considered more of a delicacy because of its lower fiber content.
Over the years, consumption of hearts of palm have caused much controversy, due to the process by which the vegetable is obtained.
Community content is available under
CC-BY-SA
unless otherwise noted.